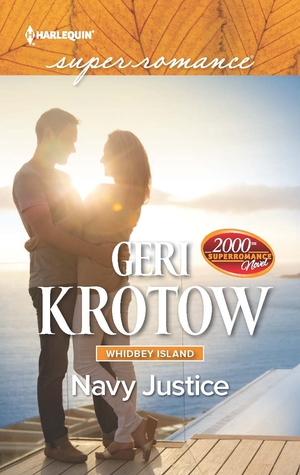 A quiet, civilian life on Whidbey Island sounded great to navy lawyer Joy Alexander. But when navy SEAL-turned-FBI agent Brad Iverson shows up on her doorstep bruised and bleeding, she realizes it's not so easy to leave the past behind. Even harder to forget are the feelings she once had for Brad.
Brad's on an undercover operation, one that's targeting potential terrorists…and unintentionally bringing danger to Joy. They'll have to work together again, except this time it's not only justice they're after—it's survival. If they make it that far, they won't waste a second chance at love.
Buy Links:
Review:
This is the first book that I have read by Geri Krotow and it is a great book!!


Joy Alexander has left her job as a Navy lawyer and starts a job at a private law firm. Former Navy SEAL and undercover FBI agent Brad Iverson, comes to her house when he is hurt after an explosion.
Brad and Joy have always had feelings for each other but haven't been able to act on them because they were co-workers. Now that they no longer work together, they are able to act on their attraction to each other and start a relationship.
Even though it can jeopardize her new job, Joy helps Brad try to solve a domestic terrorism case. This case also puts both their lives at risk.
From the beginning you are intrigued by this romantic suspense story. There are different twists and turns in the story. You won't put it down.
About the Author:
A U.S. Naval Academy graduate and former Naval Intelligence Officer, Geri left her Naval career to pursue a writing career. She has travelled the world, living in such far-flung places as Whidbey Island, Washington State and Moscow, Russia. Geri enjoys creating love stories that stand the test of time, and with settings that she has personally experienced. She's lived it, now she writes it!